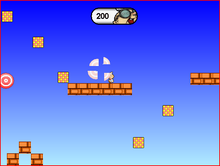 The Target is an item that you must hit in Target Smash Stages/Mode, or Classic Mode stage 4 (Easy) and 8 (Hard).
The Target is the only item that you cannot get anywhere else than the Target Smash stages.
Geno's Down-Special doesn't break targets.
Target Smash is a mini-game that originated from the Super Smash Bros games. It was known as "Break the Targets". It was found in a similar fashion that it is found in Mushroom Kingdom Showdown, by playing Classic Mode or playing the Target Smash gamemode.
Ad blocker interference detected!
Wikia is a free-to-use site that makes money from advertising. We have a modified experience for viewers using ad blockers

Wikia is not accessible if you've made further modifications. Remove the custom ad blocker rule(s) and the page will load as expected.