Mushroom Kingdom Showdown Legacy is a fan-made mod to the original Mushroom Kingdom Showdown, being developed by KingCheech. More info will be available soon. Want to help out? Go to my profile for more info.
What New Items Should Be Added To This Mod?
Remember, there will be a new poll up every Saturday, so keep voting!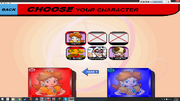 Ad blocker interference detected!
Wikia is a free-to-use site that makes money from advertising. We have a modified experience for viewers using ad blockers

Wikia is not accessible if you've made further modifications. Remove the custom ad blocker rule(s) and the page will load as expected.